Heal your gut

without extreme
elimination diets or wasting time on ineffective strategies!
Discover the 3 step process to eliminate the root cause of your digestive, energy, skin & sleep symptoms for good!
If you're like so many others struggling with unpredictable gut symptoms, maybe this sounds familiar...
Everything you've tried so far hasn't had much (if any) impact,

even if your diet is "perfect"


You deal with

unpredictable gas, bloating, nausea, heartburn, constipation or loose stools

but can't isolate the exact foods or triggers or patterns that drive them

You struggle with daily energy crashes and feeling exhausted that feels more than just "being tired"
Feel like you're always managing a new skin flare even though you treat your skin with such care and haven't changed your routine
Your doctor tells you all your tests look "normal" or "great" even though you know something isn't right
Are so used to feeling awful that you've almost accepted living with these symptoms because you don't know where else to get support
You're ready to throw in the towel and give up trying to heal your gut
Maybe you're questioning if you can even
heal your gut at all.
So let me ask you this...


What would it feel like to have the total clarity and confidence you needed to personalize your approach to heal your gut for good?

Imagine if you could...
Know the exact steps of how to

heal your gut

so you can take action to eliminate your digestive, skin, energy & sleep symptoms

Get expert guidance that actually tells you what's wrong and explains your symptoms
Get a personalized supplement protocol so that you can stop guessing and get real results
Wake up in the morning feeling rested, clear headed and focused for the day ahead
Experience clear skin from the inside out without having to buy expensive topical products or worry about covering up another skin flare
Utilize nutrition & lifestyle strategies that actually compliment your life so that you can heal your gut without missing out on your social life
Eat a wide variety of foods without fear of triggering symptoms
Focus on long term healing so that you can stop managing your symptoms and find relief once and for all!
Have mentorship and guidance from an expert in digestive health - so you never have to feel misguided, dismissed or unheard again!
Guess what? It is possible.
And I am going to show you HOW.

Since 2015, I have helped hundreds of clients just like you to optimize their digestive health and successfully eliminate digestive, energy, skin & sleep symptoms for good!
And the only reason I am able to help them is because I went through it all myself.
As a conventionally trained Dietitian I only had limited tools to navigate healing my own digestive issues and chronic fatigue and the conventional guidance of more water and fiber seemed to only make my symptoms worse.
From having been dismissed by my primary care doctor, finding little long term success with elimination diets and feeling overwhelmed by being "the healthiest person" my family and friends knew but still struggling...
...to the excitement of now having trained in Functional Medicine, healed my own gut so I experience NO digestive symptoms, sleep soundly waking with consistent energy and having created a method that has helped so many clients successfully heal their symptoms!
What I've learned from it all...
You can eliminate digestive, energy, sleep & skin symptoms when you have
the right tools, the right guide and a personalized approach

in your gut healing journey.
Just getting started
You are newly exploring healing your gut naturally and want to ensure you do it the right way.
Are further along in your journey
You have made changes on your own and/or with a practitioner but haven't seen as much impact on your symptoms as you had hoped.
Have done the work, with little longterm impact
You have worked with multiple practitioners, drastically changed your diet, lifestyle, even tried supplements and have no idea where to go from here.
The No Drama Digestion Program is your pathway to fully heal your gut.
It's time to invest in yourself and your future, and get the help you need to feel amazing in your body again!
Join the Waitlist for our Spring 2023 Cohort
Hey, I'm Abby!
I help overwhelmed clients personalize their gut healing protocol, so they can quickly heal and eliminate their digestive, energy, skin and sleep symptoms…without forever avoiding the foods they love or missing out on their social life!
As a Registered Dietitian, I have run a private practice supporting clients to heal their gut and optimize health since 2015.
Over the years, I have completed hundreds of hours of advanced training in Functional Medicine to become an expert in root cause protocols that can completely transform people's gut health and heal their frustrating associated symptoms for good.
I created this program to help thousands heal their gut and eliminate their digestive, skin, energy and sleep issues more quickly than ever, without wasting time guessing or trying cookie-cutter approaches that don't actually work, so they can live their fullest life!
Let's heal your gut, together!
- Abigail Hueber, RD, LDN
What my clients are saying...
I was experiencing extreme bloating, constipation, early fullness, indigestion and anxiety about eating because of my symptoms.
Now, I am finally experiencing hunger (no early onset of fullness), starting to lose some weight, brain clarity and having improvements in bowl movements!
I've felt the freedom to enjoy the foods I love without symptoms.
Sara A
Before the NDD Program, I was experiencing
bloating, weight gain, diarrhea & constipation, lower stomach pain
, and more. Shortly into the program, I had less digestive symptoms,

more energy

,
complete clarity on the exact plan to heal my unique gut and fully eliminate my symptoms.
I would recommend this program to anyone who is having digestive issues that they can't find answers for!
Grace S
Before the No Drama Digestion program, I struggled with
severe constipation, eczema, bloating, brain fog and anxiety
.

Now, my constipation and digestive issues have improved greatly.

I've learned all about the proper ways to eat and relax your body.
I now have a clear plan and I am moving towards complete relief!
Lauren O
I was struggling with irregular bowel movements, bad bloating/gas, acne breakouts and food sensitivities. I wanted to get to the root cause of my issues and the elimination diets and haphazard supplements I tried were not helpful. The guided personalization of the program is what led me to decide to try the program. After discovering how to eliminate the root cause of my issues, I have felt a sense of relief.

My physically symptoms are getting much more regular and I can feel the steady improvements

as my protocol continues to progress.
Amy R
Set up the Foundations
Support, strengthen and prepare the drainage system, gut and body for healing.
Optimize Digestion
Focus on how you eat, what you eat and when you eat for optimal gut health.
Understand your Root Cause
Why do symptoms occur, how to prioritize your unique root cause and what needs to be supported first.
Develop your Unique Plan
Get a personalized root cause protocol to effectively heal your gut and eliminate your symptoms.
Incorporate Lifestyle Strategies
Implement lifestyle habits for long term gut health.
Attain Resiliency
Heal your gut, skin, energy and sleep to live without limitations or fear of unpredictable symptoms.
What does the program include?
The program includes 6 months of personalized guidance and will cover everything you need to know to heal your gut for good.
---
The No Drama Digestion Framework
We'll review the entire 3 steps process so you know what to expect and how to make the most of your experience in the program.
1. Personalized Supplements
The NDD program includes the Core Supplements in NDD which is a start to finish supplement protocol we use to support the drainage system and heal digestion, energy, skin & sleep symptoms. These supplements are divided into 3 specific phases to support the right body processes in the right order to eliminate and heal the root causes of poor gut health. The NDD program guides clients step by step in how to personalize the Core Supplement Protocol and includes on-demand videos, access to a private community and live coaching calls to personalize the supplement protocol to each client's unique needs.
The products used inside of NDD are practitioner only products, meaning they are not sold directly to consumer as they require working with provider to help guide their use.
When targeted supplements are used at the correct timing, correct dosage and correct duration they are the tools that promote more efficient and effective results. This is key to helping clients get immediate wins, alleviate some of their most frustrating and uncomfortable symptoms and witness in their own bodies that healing is possible!
2. Targeted Nutrition
Discover the impact of how you eat, get clear on when to eat and optimize what you eat to promote healing your digestive system.
This is not another elimination diet that's pulling MORE foods out of your diet, inside of NDD we focus on the foods you are adding to the diet to help support healing the gut and symptoms. The biggest mistake people make with diet is thinking pulling foods out of the diet is the only strategy to heal; however, it is more about inviting key foods into the diet, optimizing intake and ensuring the focus is nourishing the body not restricting. Everything you do - including your diet - should be based on the specific symptoms you're dealing with and also align with your lifestyle choices and desires
. That's why everything in the program is based on your symptoms and personalized to you - including the specific diet changes
.
3. Lifestyle Strategies
Learn and implement effective lifestyle practices such as mindfulness, circadian rhythm syncing, optimal sleep strategies and more to promote holistic healing.
There are a lot of different lifestyle tools and strategies that can help move the needle in healing, and inside of NDD I help you figure out which ones will help you MOST so you're not wasting a ton of time with a super complicated lifestyle routine and you are focusing on the most impactful practices to heal your gut and body for long term digestive health.
Learn how to establish sustainable routines to anchor your digestive health while continuing to enjoy and embrace living your fullest life.
Online Modules
Learn everything you need to know about healing your gut, personalizing your unique protocol and trouble shooting through these video courses organized by each step of the No Drama Digestion process.
$2000+ Value
30 Minute 1:1 Consult
Get one-on-one support from our expert coaches to use at any time throughout the NDD program. Troubleshoot a symptom, strategize nutrition and lifestyle changes, explore what's next and customize your NDD process with 1:1 support.
$600 Value
Live Expert Coaching
Get personalized support from gut health experts in our LIVE bi-monthly Q&A calls to help take effective action on each stage of the program - from navigating nutrition and lifestyle choices to implementing your personalized plans and more!
$4000+ Value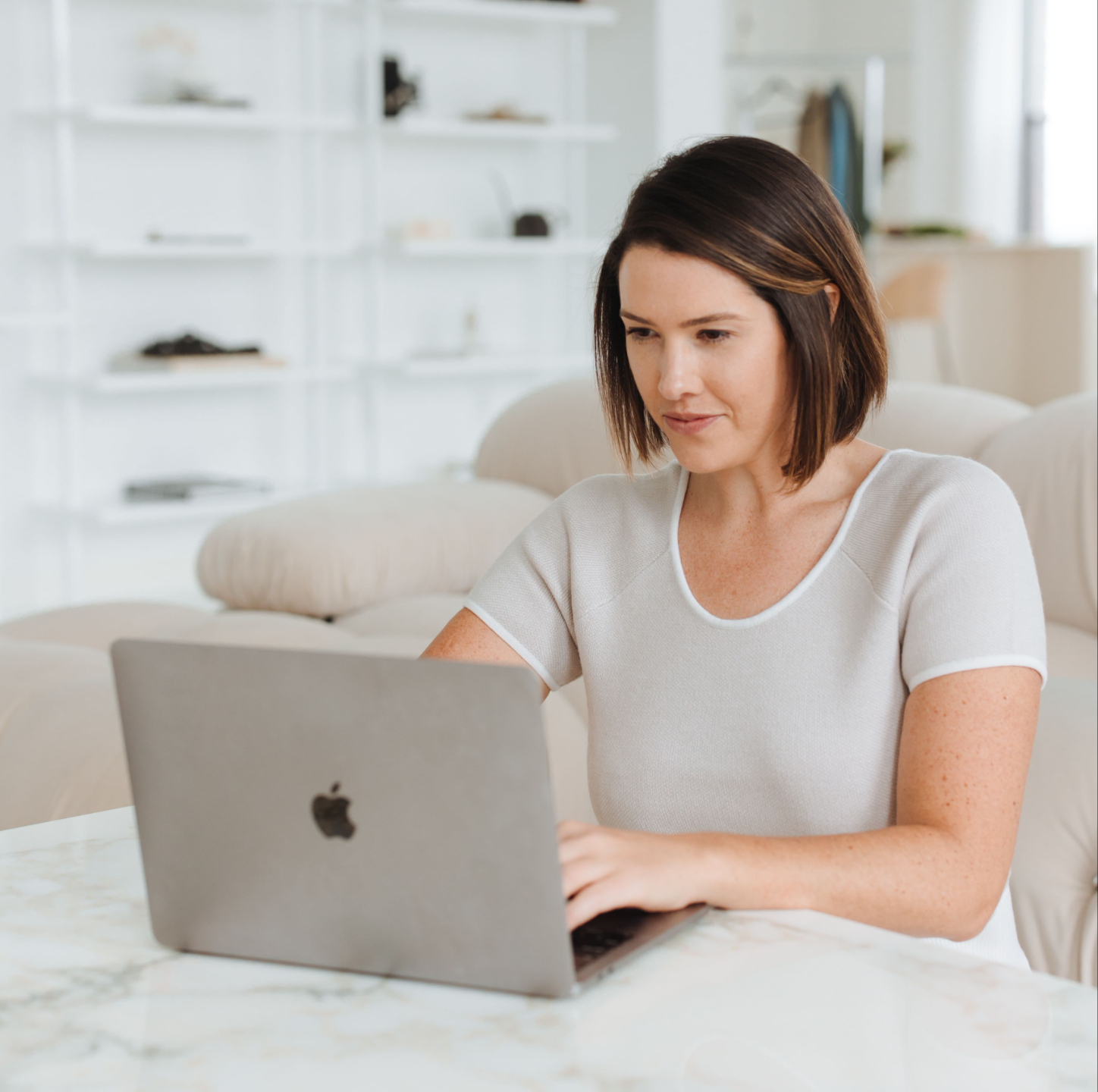 24/7 Expert Support
Continuous support from your expert coaches in our Private Community site for personalized guidance and troubleshooting as well as a space to connect with your like-minded group members.
$2000+ Value
Gut Healing Recipes & Easy to Follow Handouts
We've made taking action super simple with delicious, gut healing recipes and handouts to help you effectively implement the process and get results.
$200+ Value
Track your Progress & Organize your Plan
Interactive progress trackers, in-depth guides and materials to better implement your protocol
$200+ Value
Guest Experts
Guest experts to help introduce and deepen your understanding of important topics related to digestive health and overall optimal health.
$300+ Value
Core Supplement Protocol Discount

The Core Supplement Protocol more efficiently and effectively heals the root cause of poor gut health to eliminate digestive, skin, energy & sleep symptoms than nutrition and lifestyle strategies alone. Access exclusive discounts on the Core Supplement Protocol inside of NDD.
$500+ Savings
What My Clients Are Saying About the Program
The online courses have opened up a world of additional information and resources. Abby's support is always available and
it's truly a judgement free zone

. Abby's approach makes you feel like you are talking to someone who actually cares about what's going on in your life.

Karen M
I would recommend this program to anyone struggling with IBS symptoms. I really enjoyed working with Abby and she made me feel like my problems could be fixed with her help and that
there finally was a solution.

I feel so grateful that I can already start to see my symptoms improve!

Grace C
I would recommend this to ANYONE who has been dealing with gut symptoms.
Don't go through 5 different gastroenterologist like I did before finding Abby!

Abby gave me more answers than I had gotten from any doctor. If you are suffering from constipation, bloating, diarrhea, discomfort, indigestion, pain, anything. See Abby to get to the root cause.

Cara M
The No Drama Digestion program gave me power back in my life.

It gave me access to the tools to solve my symptoms and make them non existent.

Sarah R
You ARE a good fit for this program if…
You are ready to eliminate the daily roller coaster of digestive, skin, energy & sleep symptoms & feel clear about how to do that for your unique body.

You are ready to invest in yourself to heal your gut.

You want a personalized protocol to eliminate the root cause of your symptoms.

You take responsibility for your own results and understand that no program or coaching will work unless YOU do!
You're NOT a good fit if…
You are not ready to make radical & effective changes in your gut health.

You aren't ready to invest in yourself to heal your gut and eliminate your symptoms.

Your are pregnant or trying to get pregnant in the next 6 months.

You are not open to using personalized supplements along with food & lifestyle to more effectively heal your gut.
By the end of The No Drama Digestion Program you'll...
Understand Root Cause
You will have a clear understanding and explanation for why you have been struggling with your symptoms and the steps we are taking to eliminate them.
Personalized Protocol
You will have a concrete personalized protocol and detailed action plan to address and eliminate the root causes of your symptoms.
Symptom Elimination
You will feel the benefits of your personalized root cause protocol by experiencing major improvements in digestive, skin, energy and sleep symptoms this program will take you through to complete restoration of optimal gut health!
Longterm Nutrition & Lifestyle
Inside of NDD, our program not only guides you in how to use nutrition and lifestyle strategies to heal your gut but also provides you the education you need to be confident in building longterm and sustainable health practices to allow you to enjoy your fullest life!
Join the waitlist.
Add your email address below, and you'll be the first to know when NDD opens in April 2023 for our spring cohort. You must enter your info to be eligible for special discounts and bonuses.
My transformational promise to you...
When you join the No Drama Digestion program, you'll discover why you have been struggling with your gut health, how to implement your personalized root cause protocol and sustainable nutrition and lifestyle guidance... so you can heal your gut and eliminate your symptoms once and for all!
Join the Waitlist for our Spring 2023 Cohort
When are the dates for this program?
What if I can't make the live Q&A coaching calls?
Can I ask questions to the coach between live calls?
Is this just a cookie-cutter supplement plan?
Am I going to have to take supplements for the rest of my life?

Can I stay in the community and live coaching calls longer than 6-months?
Why is the NDD program 6 months?
Hi, I'm Abby.
I'm an Integrative Functional Dietitian and Digestive Health Expert with a passion for debunking the myth that healing your gut requires extreme elimination diets and missing out on actually living your life!
My mission is to help you heal your gut so you can eliminate your digestive symptoms, reclaim your energy, clear your skin and finally wake up feeling rested…without forever avoiding the foods you love or sacrificing your social life!
Your gut can be healed and I am here to show you how!
Healing your gut can be overwhelming. And if you're not using proven strategies in the correct order (that means starting with drainage!) you'll feel like you are spinning your wheels without seeing improvements in your symptoms - you might even start to feel worse!
That's why I am so excited to create a space for you to access the right tools, in the right order, with the right guidance to personalize your gut healing journey and eliminate the associated sleep, skin, and energy problems for good.
Let's do this TOGETHER!
your friend and coach,
~ Abby
Get access to the right tools, the right guide and a personalized approach to heal your gut today